Welcome to Poland Bus!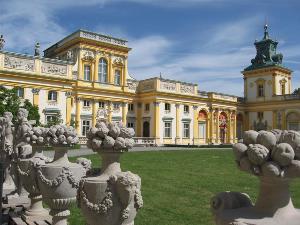 Through the charter bus rental platform Poland Bus, you can rent buses and minibuses with experienced local drivers for any sightseeing tours or transfers in Poland. Any bus reservation made with Poland Bus shall be procedured by the central bus reservation office of City Tours Europe in Vienna, Austria. The actual transfer or tour service shall be assured by carefully selected polish bus charter companies. Among other types of charter bus rental, Poland Bus can provide you with suitable coaches for the following types of transfers and sightseeing tours in Poland:
Bus transfers in Poland
With pleasure will our professional and highly motivated staff advise you concerning the booking of any type of bus transfers anywhere in Poland, for example:
City transfers by motorcoach: if you wish to travel from one place within a polish city to another, you can book a bus transfer by coach or minibus with our company that will take you from your desired meeting point to your destination.
Airport bus transfers: should you wish to be picked up by bus or minibus upon your arrival in Poland, we will be glad to welcome you at any polish airport and to take you to your destination. And once you leave Poland, we shall be glad to carry you to your departure airport.
National bus transfers: considering that flights become more and more complicated and that trains are noisy and shaky, travelling by bus from one city to another becomes more and more popular. To make you benefit of the many advantages a bus transfer can offer, we invite you to book our buses and minivans for your journey between any two places or cities in Poland.
International bus transfers: finally, we are also ready to carry you from a meeting point within Poland to any destination in Europe or to pick you up anywhere in Europe to bring you to Poland.
Emergency coach breakdown and bus replacement service: above all, we serve as your help in urgent cases and bus breakdowns. No matter where in Poland you might run into a problem with your bus, you can get in touch with us. Once we hear about your needs, we propose a replacement bus solution to you which you can accept or decline.
Sightseeing tours in Poland
The best way to discover the many sights and places of interest in Poland is to book a local charter bus and a professional polish tour guide. Whatever sightseeing tour you might be planning to undertake in Poland: the staff of Poland Bus shall be glad to help you find a suitable coach, to book a competent tour guide and to make any eventual hotel reservations and group menu arrangements for you. Furthermore, we can also help you with your ticket reservations for shows and events in Poland. Among others, we propose you charter bus rental service for the following types of sightseeing tours in Poland:
City sightseeing tours: discover the sights and attractions of Poland's most beautiful cities with our comfortable charter coaches and our professional polish tour guides. Enjoy city tours by bus to Warsaw, to Wroclaw, to Poznan, to Gdansk, to Kraków, to Katowice or to any other city in Poland in a comfortable tour bus with entertaining explications by an experienced English speaking tour guide.
Bus excursions: undertake informative and entertaining sightseeing excursions to the surroundings of any polish city with a professional polish tour guide in a comfortable chauffeur-driven coach or minivan.
Sightseeing tours to Europe
Besides the above mentioned sightseeing tours in Poland, we can also help you to rent buses and minivans with driver for any bus tour in Europe. For instance, we would be pleased to help you plan and execute your individual coach tours to Ukraine, Belarus, Russia, Lithuania, Germany, Czech Republic and Austria as well as to any other country in Europe.
Rent a bus in Poland
If you wish to learn more about how to rent a bus in Poland for a transfer or a sightseeing tour, please feel free to contact us anytime at or to call the central charter bus reservation office of City Tours Europe at +43 1 966 02 61 or +43 6991 952 49 44. We are awaiting your bus charter request and shall be pleased to advise you!